Dr. Raymond Wayne Whitted MD, MPH, FACOG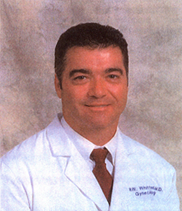 You can see many signposts that tell you how to live a healthy life. Sometimes the signs seem to point in opposite directions. Dr. Raymond Wayne Whitted and his staff can help you navigate the confusion.
Far-reaching education
Dr. Whitted's diverse educational background makes him especially sensitive to the extensive needs of today's women in an ever changing healthcare environment.
Residency, WHMC, 1984
MD, with honors, Loma Linda University School of Medicine: 1984
MPH, Health Administration, Loma Linda University School of Public Health: 1979
BS, Cum Laude, Nursing, Southern College, Tennessee, 1976
Certifications
Abnormal Paps Smears (Human Papilloma Virus)
Diplomate, American Board of Obstetrics and Gynecology, 1990, 2000
Advanced Laparoscopy and Hysteroscopy
Menopause Clinician
Advanced Colposcopy
Clinical Bone Densitometry
Wartime Surgical Management
Advanced Human Subjects Research
...And Experience
Assistant Professor of Gynecology, University of Miami School of Medicine
Director of Minimally Invasive Surgery (UM)
Director of Gynecology (UM)
Chief, Dept. of OB/GYN, Bitburg USAF Hospital, Bitburg, Germany
Private Practice gynecology, San Antonio, Texas
ER/CCUMCU and administrative nursing
Everyone is confronted with difficult health decisions at one time or another. you'll want your doctor to have the knowledge and experience to guide you safely through the decision-making process.

Noted member, author, and speaker...Committed to providing the best of the latest medical advances, Dr. Whitted is a current member (or has been a member) of many prestigious medical Organizations.
Fellow, American College of Obstetricians and Gynecologists
Advanced member, American College of Physician Executives
National Medical Honor Society
American Association of Gynecologic Laparoscopists
Society of Laparoendoscopic Surgeons
North American Menopause Society
Society of Urogynecologists
American Society of Colposcopy and Cervical Pathology
He also contributes to the advancement of medical knowledge in writing, research and, through lecture.
Presentations
Hundreds of presentations nationally and internationally on topics of laparoscopy, hysteroscopy, vaginal surgery, menopause, contraception, breast cancer, endometrial ablation.
Published Papers
Over 20 publications of research in menopause, laparoscopy, hysteroscopy, vaginal surgery, infertility, contraception, pelvic prolapse, and incontinence.

Setting the standard for high quality of healthcare, Dr. Whitted is an active researcher, innovator, and educator. He was chosen as an Olympic Torchbearer in 2001 because of his dedication to women's healthcare.

Recognized researcher, innovator, and educator Dr. Whitted has been principle investigator of many national research projects. He has created tools to assist in improving women's healthcare, and trains other physicians in gynecologic surgery.
Research:
Alternative therapies in menopause
Menopause
Osteoporosis
Hysteroscopy
Laparoscopy
Vaginal Surgery
Innovator
Menopause Risk Assessment
Laparoscopic Knot pusher
Laparoscopic training platform
Laparoscopic skills training set
Educator
Director, CME programs in menopause
Director, Laparoscopic/Hysteroscopic training
Grand Rounds speaker
Research presenter at National/International conferences
Committee Member and Consultant
Steering committees in surgical training
CME meeting session moderators
National menopause scientific advisory board
Consultant to surgical industry